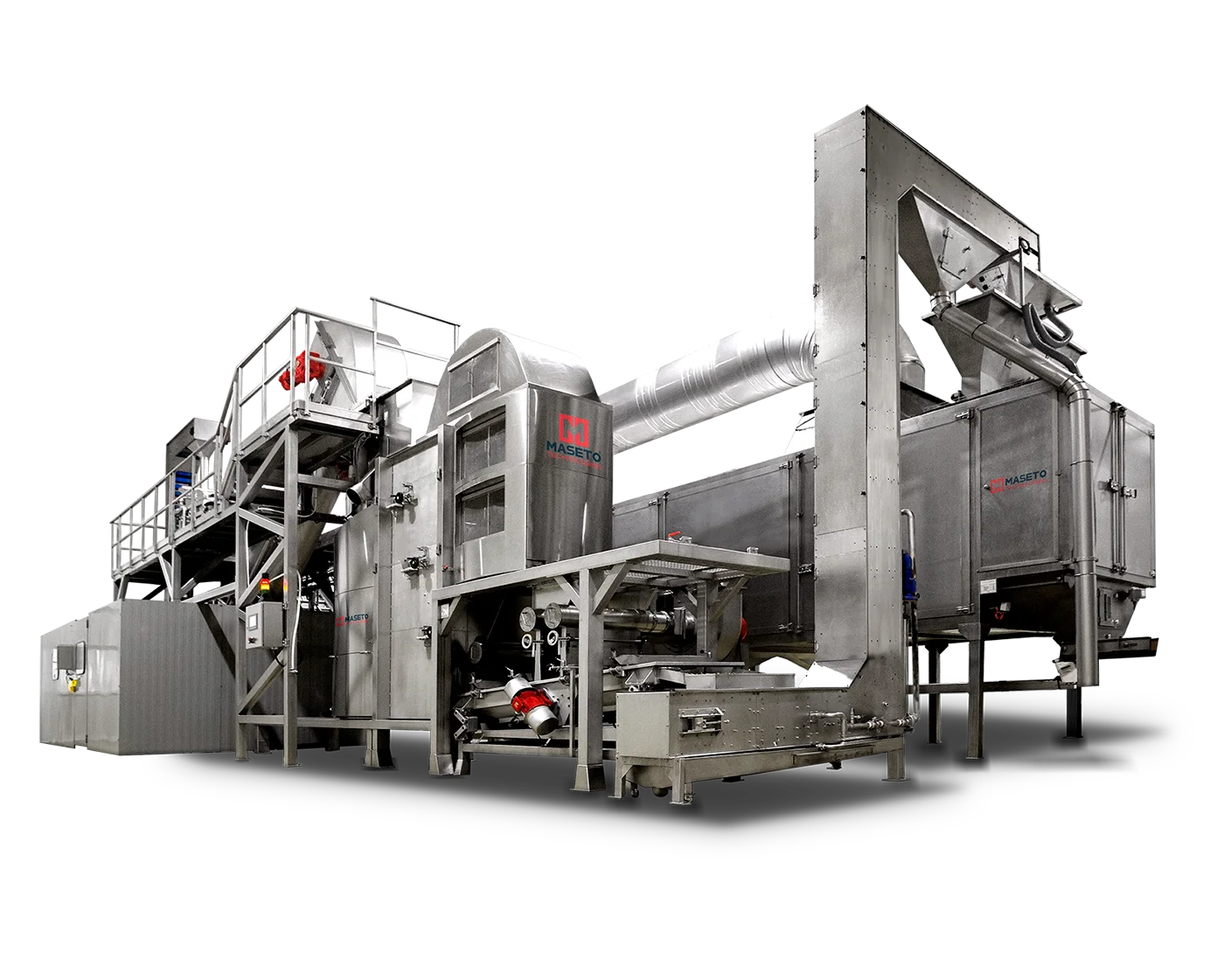 THE QUALITY OF ALL THE COMPONENTS GUARANTEE AN OPTIMAL OPERATION WITH HARDLY ANY MAINTENANCE
At Maseto we are permanently investing in R & D to boost the growth and loyalty of all those customers who demand improvements in their processing plants in order to adapt them to the constant changes in the market.
The search and selection of the best components and materials, the extensive control in the manufacturing process and the work of a highly qualified technical team make it possible to obtain a quality product that satisfies the most demanding markets. All components of the production chain are optimized and tested to provide maximum accuracy and efficiency over a long lifetime.
CUSTOMIZED MANUFACTURING
Maseto Technologies is a pioneer in the manufacturing of machinery for the processing of nuts and sesame seeds.
Since its foundation in 1960 it has directed all its energy on two fundamental objectives:
Ongoing research to provide efficient and long lasting machines.
Providing the best and the most extensive customer service.
RESEARCH AND DEVELOPMENT
THE KEY OF PAST AND FUTURE SUCCESS OF MASETO
Each element of a work chain is the result of the evolution and improvement of the systems and components that are permanently made in MASETO from the beginning.
In short, you will acquire not only the machinery for the processing of your products, but also the security of service, maintenance and customer support.

MISSION:
Inspire with the best technological solution in production and treatment lines of nuts processing.
They're designed to maximize the efficiency and satisfaction of our clients with our commitment and experience in the sector.

VISION:
Maseto Technologies' vision is to become a trusted partner for our customers.
Serving your needs with our constant innovation as a main strategic line.

VALUES:
The values ​​that inspire our work are a mere declaration of intentions. Essence of our culture and daily performance:
Trust: We trust in our work, in the good work of each day. And, correspondingly, our customers trust us.
Looking for long-term relationships based on loyalty and mutual interest.
Excellence: Personal and professional as a custom, the result of efforts.
With an enthusiastic team formed with the constancy that requires continuous improvement.
Commitment to our customers, since our company is concerned with the satisfaction in the first place
Passion for innovation: We seek to exceed our customers' expectations.
AT ANY TIME
OF DAY OR NIGHT
MASETO MACHINES ARE
WORKING THROUGHOUT
THE WORLD
PLEASE CONTACT US AND TELL US ABOUT YOUR PROJECT
We will INSPIRE you with our SOLUTIONS assessed with our EXPERIENCE.
At present and thanks to the growing confidence of our customers, we are working in 53 countries with machinery installed and operating to full customer satisfaction. Our market has neither borders nor language barriers if you want to process nuts of any kind using robust and reliable technology.
CONTACT
Calle Mariano Benlliure 9
03009 Alicante / Spain
+34 965 930 077
info@maseto.com
B – 03068145
        SIGN UP FOR OUR NEWSLETTER